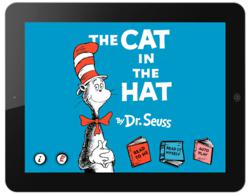 Oceanhouse Media, Inc., in partnership with Dr. Seuss Enterprises, L.P., kicks off its annual app sale for Dr. Seuss's birthday and NEA's Read Across America Day today. In honor of this year's "Hats Off to Reading" theme, the award-winning
The Cat in the Hat
digital book app is 99 cents (regular price $3.99) and
The Cat in the Hat camera app
is available as a free download (regular price $1.99).
In addition, more than 40 Dr. Seuss apps are on sale ranging in price from 99 cents to $8.99 including classic books, short stories, book collections, cameras and games. The sale runs from March 1 through March 7 on the App Store℠, Google Play™, Amazon Appstore, Barnes and Noble NOOK Store™ and Windows Store.
The National Education Association's Read Across America is an annual reading program that stresses the importance of reading to a child. The celebration occurs each year on March 2, the birthday of beloved children's author Dr. Seuss. This year, the NEA's Read Across America event will be held on March 1, a Friday. For more information, visit
http://www.nea.org/readacross
.
"We're delighted to tip our hats to Dr. Seuss and say 'Happy Birthday' with a huge app sale," said Michel Kripalani, president of Oceanhouse Media. "Dr. Seuss fans look forward to this time of year as a great opportunity to expand their Dr. Seuss digital library. Plus, now all iOS versions of our Dr. Seuss book apps include a fantastic record and share feature that lets you be the narrator of your favorite Dr. Seuss story and then share your reading with friends and loved ones."
Recent Dr. Seuss digital book app releases include The 500 Hats of Bartholomew Cubbins (celebrating its 75th anniversary), McElligot's Pool and Hunches in Bunches. The digital versions of all 44 books that Dr. Seuss wrote and illustrated will be available by the end of summer.
The Dr. Seuss digital book apps feature three reading options and simple navigation tools allowing even the youngest of readers to enjoy the story all at their fingertips. Words and illustrations are enhanced with professional narration, custom sound effects, synchronized word highlighting and picture/word association. In addition, iOS versions include a record and share feature, a page selector, the ability to turn individual learning features on or off, and a link to the Dr. Seuss Bookshelf app on the main menu.
For a list of Dr. Seuss apps, visit the Oceanhouse Media website at
http://www.oceanhousemedia.com/products/drseuss/
.
About Oceanhouse Media, Inc.
Creators of the award-winning Dr. Seuss digital book apps, Oceanhouse Media, Inc. is a leading publisher of more than 285 mobile and desktop apps for iOS (iPhone®, iPad®, iPod touch®), Android™, NOOK Tablets™, Kindle Fire™, HP TouchPad™ and Windows 8 devices. The company was founded in early 2009 by Michel Kripalani, a veteran of the video gaming industry. Seventeen of the company's apps have reached the number one spot within their categories on Apple's App Store℠. In addition, Google has selected the company as one of its Top Developers, a designation granted to only 150 groups worldwide.
Oceanhouse Media's corporate focus is to uplift, educate and inspire through technology. For more information, visit
http://www.oceanhousemedia.com
. Follow the company at
http://www.facebook.com/OceanhouseMedia
and
http://twitter.com/OceanhouseMedia
.
About Dr. Seuss
Theodor "Seuss" Geisel is quite simply the most beloved children's book author of all time. Winner of the Pulitzer Prize in 1984, an Academy Award, three Emmy Awards, three Grammy Awards, and three Caldecott Honors, Geisel wrote and illustrated 44 books for children. Hundreds of millions of copies have found their way into homes and hearts around the world. While Theodor Geisel died on September 24, 1991, Dr. Seuss lives on, inspiring generations of children of all ages to explore the joys of reading. For more information about Dr. Seuss and his works, visit Seussville.com.
The primary focus of Dr. Seuss Enterprises, L.P. is to protect the integrity of the Dr. Seuss books while expanding beyond books into ancillary areas. This effort is a strategic part of the overall mission to nurture and safeguard the relationship consumers have with Dr. Seuss characters. Theodor Seuss Geisel (Dr. Seuss) said he never wanted to license his characters to anyone who would "round out the edges." That is one of the guiding philosophies of Dr. Seuss Enterprises. Audrey S. Geisel, the widow of Dr. Seuss, heads Dr. Seuss Enterprises as CEO. Learn more about Dr. Seuss at
http://www.seussville.com
and
http://www.facebook.com/Dr.Seuss
.