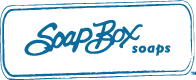 I love trying out new soaps especially when they are beautiful or they smell great. I also love trying out products from companies that really give back to others. So with that being said I want to tell you about
SoapBox Soaps
.
SoapBox Soaps donate their soaps internationally to a number of countries including Ecuador, Haiti, Kenya, Thailand and Uganda. Soapbox Soaps also provides soap locally to struggling families at homeless shelters, women shelters and nursing homes here in America.
Here is the Bundle that I received to try.
When I opened the package it smelled awesome. I received 2 full size bars and 7 samples of all of their scents. My favorite of the bunch is the Black Soap and when i read the description I thought that i would not like it. It smelled so great I will be trying for a full size bar very soon. My husband has been trying these soaps and he loves them as well as my 9 year old son who really likes the orange scented bar.
All SoapBox Soaps contain:
All Natural ingredients
Gluten free ground oatmeal
Sea salt
All SoapBox Soaps are:
Crutley free, Gluten free, Made in America, Packaged with 100% recycled fibers and 35% post consumer waste, Palm Oil free, Paraben free, Petrochemical free, Phthalate free, SLS free, and Vegan.
You can buy single bars for $4.99 each or you can get a monthly subscription of 2 random bars or 2 of the bars of your choice for $9.99 a month. They are nice size bars for only $4.99 each.
Soap Can
Change

the World

That's our plan, really. Use soap to improve the world.
More than 3,000 children's lives could be saved every day with something as simple as a bar of soap and clean water.
That's why we at SoapBox Soaps will donate one bar of soap to a child in need for every bar purchased. Make sure to like them on
FACEBOOK
and follow on
TWITTER
.
I received this item for review purposes. My opinions are honest and I was not paid for this post.