Today's review is coming from another great etsy store called
Priya Means Love.
Priya Means Love is a handcrafted line of products for skin, body, and hair, dedicated to radiant beauty without compromise. Our products are 100% natural - every single ingredient is natural, simple, and recognizable. She sent me over 4 of her items from her store. The packaging was very nice and tight nothing leaked or was able to move around. Every item came with its own instructions and information about the product.
The first item she sent me is the Herbal Lip Therapy which retails for $12.00 the photo shown is original size.
This glidy, super-healing organic lip balm is serious treatment for chapped lips. This may be the most healing lip balm you ever use! Wonderful as a nighttime lip treatment. Really stays on the lips.
Packed with ingredients that heal and soothe chronically dry, irritated, chapped lips:
Calendula. Anti-inflammatory, calming, and soothing. Excellent for sensitive, environmentally damaged, irritated, or chapped skin.
Helichrysum, aka Everlasting or Immortelle. A super-potent anti-inflammatory botanical, stimulates new cell formation.
Rosemary, Known for its cell-regenerating and antiseptic properties.
Castor oil and Extra Virgin Olive Oil. Humectant oils that draw atmospheric moisture to the lips - you can actually feel this balm softening chapped skin as you wear it
The next item is the Headache & Muscle Balm which retails for $12.00 for a 1.7oz glass jar. She sent me a sample size jar in the photo.

A powerful organic, soothing, minty-herbal balm for tension headaches and muscle pain, melting into the skin and melting away pain. This balm makes all the difference for me (Priya) when I'm suffering from fibromyalgia- and trigger point-related pain, lulling me to sleep at night.
Makes a wonderful massage balm for neck and shoulder tension.
Directions: For headaches, massage balm into the temples, forehead, and especially the neck and shoulder muscles, where tension headaches originate. For muscle pain, gently massage balm wherever it hurts.
Next is the Lavanilla Body Butter which retails for $6.00 for the purse size as shown in the photo which is 0.5oz.
A tiny version of our popular Lavanilla Body Butter for moisturizing dry hands and lips on the go - ideal for a purse, pocket, desk, or car. Absorbs beautifully after washing hands - use just a tiny bit after every wash to make cracked, scaly hands soft, supple, and comfortable again.
Buttery rich and redolent of wild lavender and sultry organic Tahitian vanilla, our organic Lavanilla Body Butter is a fabulous treat for every day, for dry, damaged skin, or for after sun.
Organic mango butter, olive oil, and sunflower oil deeply feed the skin, moisturizing, reducing inflammation, and regenerating damaged skin.
We hand infuse whole organic Tahitian vanilla beans into our base of organic oils for an aroma that is sensual and warm but is gentle enough for all – ideal for use during pregnancy to prevent stretch marks. Don't mind the occasional fleck of organic vanilla in our rich butter!
Wonderful smoothed onto the body after a shower to lock in moisture, especially after exfoliating or shaving. A little goes a long way.
Lastly us their Sweet Mouth Mint drops which retail for $8.00 for a 5ml bottle as shown.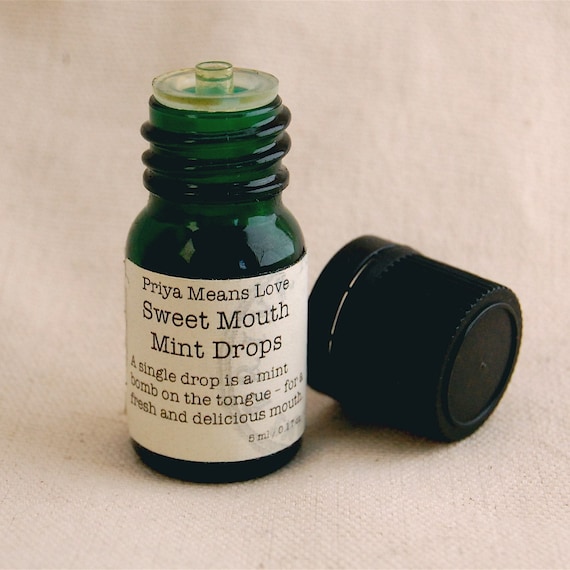 A pocket-sized atomically powerful breath freshener to use one drop at a time – for a sweet and delicious mouth. Convenient to keep on hand for whenever you need it! Freshens instantly so you're not stuck chewing gum or sucking an artificially sweetened breath mint.
Peppermint, spearmint, and stevia leaf sweeten and freshen as they curb bacteria responsible for bad breath.
Skip the sugary or artificially sweetened breath mints and go for these yummy, highly effective drops!
I absolutely love all of these products. I keep them all in my purse except for the Headache & Muscle Balm. Each one has a great natural smell at a great price. She is based out of Canada so shipping may take a bit longer but it is definitely worth it.
I received this item for review purposes. My opinions are honest and I was not paid for this review.